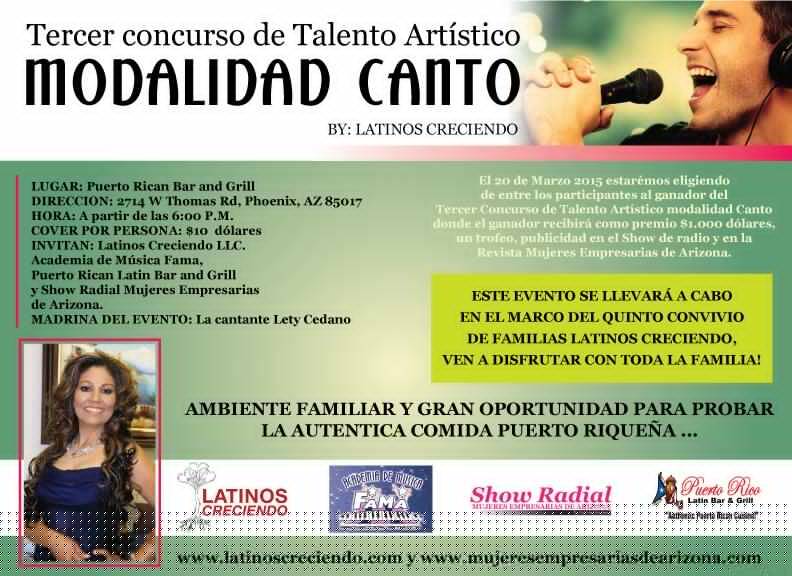 AMBIENTE FAMILIAR Y GRAN OPORTUNIDAD PARA PROBAR LA AUTENTICA COMIDA PUERTO RIQUEÑA …
El 20 de Marzo /15 estarémos eligiendo de entre los participantes al ganador del Tercer Concurso de Talento Artístico modalidad Canto donde el ganador recibirá como premio $1.000 dólares, un trofeo, publicidad en el Show de radio y en la Revista Mujeres Empresarias de Arizona.
LUGAR: Puerto Rican Bar and Grill
DIRECCION: 2714 W Thomas Rd, Phoenix, AZ 85017
HORA: A partir de las 6:00 P.M.
COVER POR PERSONA: $10 dólares
INVITAN: Latinos Creciendo LL. Academia de Música Fama, Puerto Rican Latin Bar and Grill, y Show Radial Mujeres Empresarias de Arizona.
MADRINA DEL EVENTO: La cantante Lety Cedano (Usar la foto de Lety)
ESTE EVENTO SE LLEVARA A CABO EN EL MARCO DEL QUINTO CONVIVIO DE FAMILIAS LATINOS CRECIENDO, VEN A DISFRUTAR CON TODA TU FAMILIA!